The Defence Group's
Practice Areas
The Defence Group handles all criminal cases, from theft to homicide. More specifically, Arun S. Maini, the criminal lawyer at The Defence Group, advises and defends his clients against criminal charges laid by the police or government agencies such as the CRA. Mr. Maini also occasionally represents victims of crime and advises individuals who are under criminal investigation of their options and their rights, and how to best protect themselves. If you are a defendant or a victim in a domestic violence case, we have the skills and experience to help you. If your son or daughter has been caught shoplifting, call us. If your home or business has been raided by the CRA, Mr. Maini has years of experience as a federal prosecutor and as a criminal defence lawyer, dealing with search warrants, seizures of property, and wiretaps. We handle all areas of criminal law, but if your case is not one we are best suited for, we will happily refer you to a lawyer or law firm that can best address your needs.
The law is complex, with many different areas and specialties. By concentrating on one discipline, we are able to provide our clients with the most up-to-date information and advice, in the most timely and cost-effective way. We will not draft your will, sue your former employer, or close the sale of your home; but if you are in any way facing criminal charges, or under investigation by the police or a government agency, The Defence Group can help you.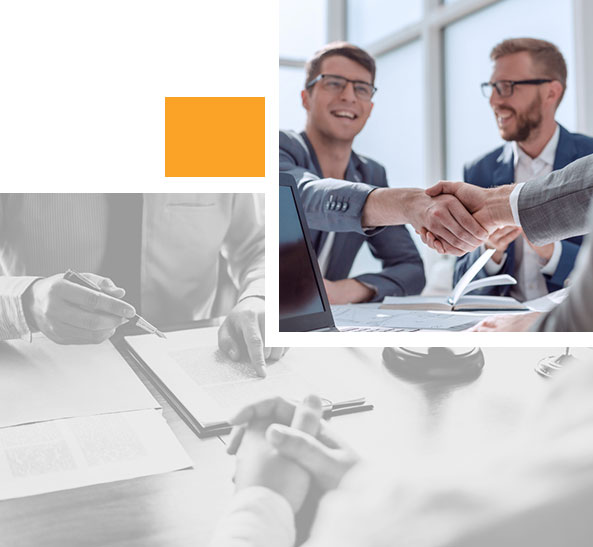 Defence Group Law Practice Areas
The Defence Group's Representation Process
Initial Free Consultation

Detailed Analysis, Communication and Transparency

Trial and Aftermath
Initial Free Consultation
After you contact us by phone or online, Mr. Maini will call you to record details about your situation over the phone, then arrange to meet with you for a free consultation.
The consultation will take place at the Toronto, Oakville or Vaughan office of The Defence Group, at a time that is convenient for you. The consultation is free of charge so the focus is on you and your case. After, Mr. Maini will discuss the costs and flexible payment plans with you, so that know in advance what the costs will be.
The consultation will take about an hour. Mr. Maini will obtain background information about you and your case to better be able to advise you about your options. He will then explain the criminal process to you, which consists of three main stages: the analysis, the negotiation, and if necessary, the trial (click on The Criminal Law Process here to read more).
If following the free consultation you decide to hire The Defence Group to represent you, the paperwork will be prepared, which consists of a retainer agreement that sets out the legal fees, and the designation of counsel for court appearances. This designation permits us to handle the court appearances on your behalf so that you can spend your time at work or with your family, rather than sitting in court every month for routine status appearances.
Detailed Analysis, Communication and Transparency
Once you have retained Mr. Maini to represent you, he will obtain the evidence from the Crown attorney's office and conduct a detailed review and analysis of your case, building on the information that you discussed at the initial consultation. Mr. Maini will then assemble, in consultation with you, the members of your defence team. The composition of that team will depend on the specific nature and requirements of your case.
Mr. Maini and his team will work closely with you throughout the case, to make sure that you have the best, most timely and most cost-effective representation possible. Mr. Maini will explain every detail of the process to you so that you understand everything you need to know, and he will answer all of your questions.
You will be kept up to date on the progress of your case, on your options, and the various outcomes (with an analysis of your chances of success in achieving these outcomes).
As for legal fees, Mr. Maini will explain to you at your first meeting (the free consultation) what the case is expected to cost so that you either have a fixed quote or a range (depending on the complexity of the case and the work required). The goal is for you to know, as early as possible, exactly how much the case will cost you and when the payments are due. At The Defence Group, we are honest, transparent and reasonable about our fees.
Trial and Aftermath
If the case goes to trial, Mr. Maini and your defence team will work closely with you to prepare for the trial proceedings, including preparation for the cross-examination of Crown witnesses, the examination-in-chief of defence witnesses, and the preparation of your testimony in court.
In court, Mr. Maini will bring all of his years of knowledge, skill and experience to fight for you so you have the best outcome.
After the case is over, Mr. Maini will remain available to follow up with you, to answer questions, and assist you in obtaining court documents, the removal of your fingerprints and mugshot from the police database, and any other help you require.
From the moment you contact The Defence Group until long after the case is over, we are here to serve you and to ensure that you not only achieve a favourable outcome during this most difficult time in your life but that during the process you feel listened to, understood, respected, cared for, and informed. In other words, we want you to not only be represented, but to be well represented, and that is what we strive to offer you at The Defence Group.
Are you facing a criminal charge? Contact The Defence Group today at 877-295-2830 or contact us here for a free consultation.