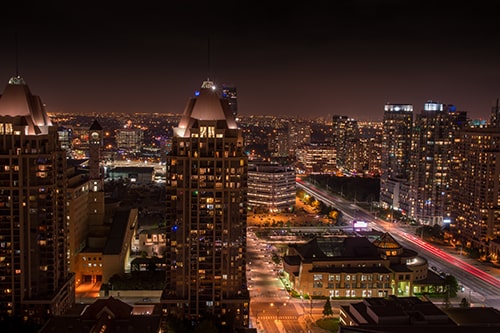 Brampton is a bustling city of over half a million people in the Greater Toronto area. Founded in 1853, and once referred to as the Flower City, Brampton is now better known for its concentrated industry and its high levels of new Canadians. A very multicultural city, Brampton is a major destination for immigrants from all over the world, notably from India and Pakistan (40% of Brampton's population).
Located close to the busiest airport in Canada (Pearson International Airport), Brampton is a major transportation hub, with rail, highway and air links to the GTA and North America. A billboard claiming that "All Roads Lead to Brampton" states a fact: with highways 401, 403, 407, 409, 410, and 427, Brampton is surrounded by major roadways.
Brampton is the seat of government for the Regional Municipality of Peel, which includes the City of Mississauga and the Town of Caledon. Together, this regional municipality is home to a population of over 1.3 million people. The headquarters for the Regional Municipality of Peel is located at 10 Peel Centre Drive. The City of Brampton is run from its City Hall at 2 Wellington Street West, near Queen St. and Main St.
Brampton is policed by the Peel Regional Police Service (PRPS), Canada's third largest, whose Headquarters is located at 7750 Hurontario St. in Brampton.
Domestic Assault Lawyer
There are no boundaries when it comes to domestic assault. It transpires at any age, socio-economic background, and across genders. Domestic assault occurs between people in a familial or intimate relationship, such as between family members or couples. This type of assault is when one individual commits emotional or physical harm against another person.
Drug Possession Lawyer
Drug crimes (traditional street drugs, opioids, and synthetic drugs) carry the most significant charges, whether controlled or illegal. These charges have serious consequences, including mandatory sentencing and permanent criminal records. Charges range from possession to manufacturing to distributing to selling drugs. Drug Possession Lawyers can protect your rights and help you understand the charges.
Youth Criminal Defence Lawyer
Individuals between 12 and under 18 years of age are considered young offenders and may go to youth court if suspected of a crime. The Youth Criminal Justice Act investigates and prosecutes young offenders. It emphasizes rehabilitation/re-entering society and is lenient in punishing youth.
Sexual Assault Defence Lawyer
Sexual assault charges involve unwanted sexual contact. It includes expressly unwanted kissing, fondling/touching, and intercourse. Sexual assault is a severe offence carrying social stigmas, negative consequences, mandatory sentencing, registration on a sex offender list, and more.
Successful litigation is challenging as the method of investigation and prosecution is changing. Therefore, having good legal representation updated on the law becomes vital.
DUI & Over 80 Defence Lawyer
This area involves driving offences such as driving under the influence (DUI), reckless driving, driving over 80, suspended/prohibited driving, refusing a breath test, and fatality cases. According to the Crown, these violations are severe and contain serious consequences if convicted. These consequences may include criminal records, fines, and mandatory penalties.
Weapons Violation Defence Lawyer
Weapons charges stem from possessing unregistered firearms, carrying concealed weapons, trafficking firearms, assault using a firearm, illegal firearm usage, pointing a firearm, and possessing prohibited firearms. A conviction requires minimum mandatory sentencing, permanent criminal records, and weapon prohibition.
Therefore, since weapons charges are serious, you will need an experienced criminal lawyer in Brampton to work on your case.
Murder Defence Lawyer
Murder can be premeditated or meditated and falls into three categories: criminal negligence causing death, manslaughter (accidentally causing death), and murder (intentionally causing death). When charged with murder, a good lawyer can assist you in establishing innocence or obtaining a reduced sentence.
White Collar Crime Defence
White-collar criminal offences involve misrepresentation, deceit, and concealment to generate an economic advantage. White-collar crimes tend to involve crimes designed for illegal financial gain or illegal business practices. Since the offence can be complex, they require the experience of a criminal defence lawyer.
Fraud Defence Lawyer
Fraud involves being deceptive in attempting or attempting to acquire property. Fraud and theft are taken seriously, especially when money, land or public property are involved. Penalties imposed after a guilty verdict can be severe and vary according to the sophistication of the deception.
Since fraud can result in a permanent record and other verdicts, finding a good defence lawyer in Brampton is essential in avoiding unseen repercussions.
Regulatory Offences Defence Lawyer
Regulatory offences are legal violations not listed in the Criminal Code of Canada or related statutes. They are non-criminal and provincial offences established in the Liquor License Act, Highway Traffic Act, Occupational Health and Safety Act, Fire Protection and Prevention Act, Fish and Wildlife Conservation Act, and Environmental Protection Act.
This offence differs from criminal charges since proof of intent isn't required. All a conviction needs is evidence that the person did the act.
Bail Hearing Lawyer
When someone is charged with an offence, they are placed into custody. At this time, a bail hearing is established. Successfully being released means convincing a criminal court that you can be released, you will not commit additional offences and will appear for your court hearing. A criminal lawyer is necessary for your release because if the hearing and bail review fails, you will stay in custody until trial.
Sentencing Hearing Lawyer
When arrested and charged with a crime, within 24 hours, the individual will first appear in court. Arraignment formally charges the defendant with a crime, and they are advised of their legal rights. Since the time frame is brief, there isn't much time to collect evidence, and there is pressure for a guilty plea, it is best to hire a Sentencing Hearing lawyer to ensure a reasonable bail amount.
The PRPS polices Brampton from its detachment at 22 and 22 Divisions, and community sub-stations (Malton Community Station, Cassie Campbell Community Station and the Airport Division).
If you have been charged with a crime in Brampton, you need an experienced criminal lawyer to represent you. The Defence Group has a team of experienced criminal lawyers who can help you fight your charges and protect your rights. In 2012, the rate of crimes against persons in Peel Region was 615 per 100,000 people, and the rate of crimes against property was 1,912 per 100,000. DUI/drinking and driving offences comprise 140 per 100,000 people (source: PRPS).
Book a Legal Consultation in Brampton
Brampton Courthouse
Brampton is the site of the courthouse for Peel Region. The Brampton courthouse, located at 7765 Hurontario St., is the site of the Ontario Court of Justice and the Superior Court of Justice.
To serve clients in Brampton and Peel Region, the Defence Group's Oakville office is located a short drive down the 410 from Brampton, on the border of Mississauga and Oakville at 2275 Upper Middle Road East, Suite 101. We serve clients in Brampton, Mississauga, Caledon, Oakville, Burlington, Milton, Halton Hills, Hamilton, and areas to the west of the GTA.
Being charged with a criminal offence can be a life-altering and emotionally overwhelming experience. In such challenging times, having the proper legal representation becomes paramount. A skilled Brampton criminal defence lawyer can make all the difference in protecting your rights and securing the best possible outcome for your case.
We defend all criminal offences, including domestic assault, sexual assault,
A criminal defence lawyer is an advocate who represents individuals facing criminal charges. Their primary goal is to protect their clients ' rights and ensure a fair trial. They are crucial in crafting a robust defence strategy to challenge the prosecution's case.
We offer a free consultation, flexible payment plans and reasonable fees, and the best criminal defence anywhere.