Should I Agree to a Zoom Trial?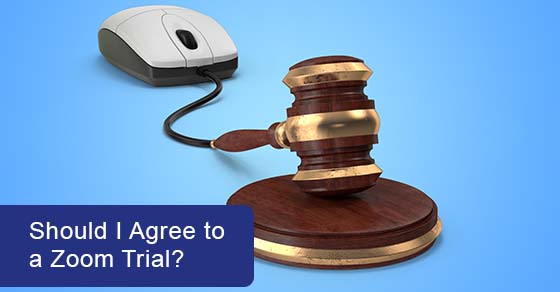 Blog by Arun S. Maini
My lawyer wants to know if I will agree to my trial being on Zoom. What are the advantages and disadvantages of a Zoom trial?
Now that the COVID-19 pandemic is into its third year, the court system has adapted to the need to conduct hearings remotely using the Zoom platform. As lockdowns come and go with waves of the disease, the courts keep operating because they cannot absorb any more shutdowns. The backlogs in the system have turned an already jammed, slow and antiquated system into one which is struggling to keep up, if not on the verge of collapsing under its own weight.
Courts are now routinely asking whether clients wish to have their trial in person or on Zoom, the court generally preferring Zoom at the moment to minimize health risks.
What does that mean for you? Will your right to a fair trial be compromised by a video hearing? Will the witnesses testify by video? How can you communicate with your lawyer if you are on video?
The first thing to be said is that the best way to conduct a trial was the way they did it before the pandemic. But until the pandemic is over, that is no longer an option. What one has to realize is that a trial in person in the courtroom means that everyone is wearing a mask during the proceedings, and there are Plexiglas partitions separating each person. So choosing a trial in-person does not mean choosing a trial the way it was before COVID.
There are both pros and cons to a trial on Zoom and a trial in person during COVID.
What are the disadvantages of a Zoom trial?
The disadvantages are pretty obvious. When you are on video, you will not have the same feeling of being present as you would be in a courtroom, being able to look around and see and hear everyone around you.
Because we have lived our lives and always had meetings and important events in the presence of other people, doing so on video and in isolation seems unnatural and disorienting. And when you are going through a trial, you are already anxious. Experiencing what is already a nerve-wracking moment, in a way that seems alienating and unnatural, may compound your anxiety.
Not having your lawyer next to you can also increase you sense of unease, even if s/he is available by text or in a break-out room as needed.
In addition, the quality of your internet connection (and everyone else's) will determine whether the proceedings go smoothly or get interrupted due to technical issues.
What are the advantages of a Zoom trial?
One of the surprising advantages that has become apparent during the pandemic is that Zoom trials actually enable you to see and hear the witnesses and the judge better. Because each participant has their own screen, you can very clearly see the face of the judge or witness, better than you could from the distance of the counsel table where you would be sitting with your lawyer before COVID. The other reason you can see the participants better is that they do not wear a mask when they are on Zoom. You can see their expressions, and understand better what they are saying because you can see their face and mouth up close, and turn up the volume as needed. In that respect, Zoom trials are an improvement over the pre-COVID set-up, and certainly better than the current practice for in-person trials, where everyone is separated by masks and Plexiglas. Remember that if you have a trial in person in the courtroom, you will be separated from your lawyer, the judge and the witnesses by two sheets of Plexiglas (the one surrounding you, and the one surrounding each of the others). It can be quite difficult to hear and see a witness if they are testifying through a mask. (While many judges permit witnesses to testify without a mask, that is not a given.) It can also be harder to communicate with your lawyer, because the old days of leaning over and whispering to each other, or huddling close in the hallway are no longer possible during COVID. You might actually be able to be seen and heard better in a mask-free breakout room than in the courthouse.
A judge can also better see the witness on a screen than in court. In court, the witness sits in a box below, and next to, the judge. The judge has to pivot to see the witness, which can be difficult to do when taking notes. Also, the witness is facing out into the body of the courtroom, making it difficult at times for the judge to see the speaker's face. On a Zoom screen, the judge gets an excellent view of the witness.
As a final point, depending on where you are located, you might feel more comfortable going through this stressful process from home, where you can take breaks in comfort and familiar settings, rather than sitting out in the busy hallway of the courthouse. In many cases, however, especially when there are young children at home, or your home is small and crowded, you will not feel comfortable and focused at all. It depends on your circumstances. In that situation, you may prefer a trial in person, or to make arrangements to attend the trial remotely from your lawyer's office.
Do I get to decide whether to have a trial on Zoom or in person?
Yes, you do. So far the courts have been letting the defendant decide whether they prefer an in-person proceeding or a remote one on Zoom. The judge may still permit some witnesses to testify remotely, even if everyone else in present in the courtroom.
Talk to your lawyer about your options, and the pros and cons of each, to ensure that you have the best chance of winning your case, and feeling as comfortable and secure as you can be during what will no doubt be one of the most stressful events of your life.
If you or a loved one are facing criminal charges and need the advice of an experienced and skilled lawyer to help you through the legal process, call The Defence Group for a free consultation at 877-295-2830.
Arun S. Maini is a criminal lawyer and former prosecutor with 25 years of experience