What Is Domestic Violence?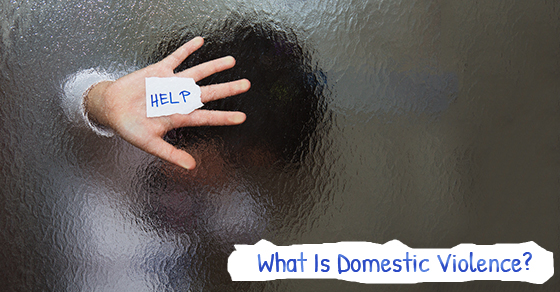 Domestic violence is any violence that occurs within family or intimate relationships. The main characteristic of such violence is that it occurs to people who are often vulnerable, or dependent on the abuser, in a place where he or she expects to be safe, such as a home or within a relationship. The intimate relationship need not be current: violence towards a former romantic partner is also considered domestic violence.
A victim of domestic violence can be a child, a lover, a parent, a spouse, a family member of any kind. The victim can be a former lover. Statistics show that most victims of domestic violence are women, but men can be victims as well. It is common to say that men fight with their fists, and women fight with their words, but like most stereotypes, the reality is more complex.
Domestic violence does not necessarily involve physical injury; in fact, it does not need to involve physical contact at all. A threat to damage your boyfriend's property, or to post intimate images of your ex-girlfriend online, are examples of domestic violence. So is failing to properly feed or clothe your child. Corporal punishment of your child, such as spanking or slapping, can be considered domestic violence if it crosses a certain threshold (it is also considered child abuse). Criminal harassment or sexual assault of an intimate or former partner, or a family member, are also examples of domestic violence.
Victims of domestic violence suffer not just physical injury, but emotional trauma as well. Victims are often particularly vulnerable because they live with the abuser; they are stuck in a relationship with the abuser and cannot easily escape; or because they are not able to feel safe in their most intimate and private spaces (a home, a marriage or other intimate relationship). A victim might be financially dependant on the abuser or his family. In some cases, cultural norms within certain ethnic communities make it difficult to speak out or to avoid violence. Often, alcohol or mental illness can precipitate or aggravate violence within the home or the family. And because it occurs mostly behind closed doors, domestic violence is difficult to detect. It often requires an act of courage and risk for a complainant to come forward to report that she (or a family member, friend, or neighbour) is a victim of domestic abuse.
Domestic violence has been identified as a major priority by both the federal government (which creates the law) and the Ontario government (which enforces the law). Social studies and statistics show that the vast majority of domestic violence victims are women. Many of these victims are from certain ethnic communities, where strong patriarchal values are entrenched; however, domestic violence can occur in any community, in any type of intimate or familial relationship.
By prioritizing the fight against domestic violence, the government is addressing several issues on the social and political agenda: the rights of women and children, who have historically been overlooked as victims; the equality of the sexes; the protection of the home as a place of safety and comfort in an increasingly complex and challenging world; and the promotion of Canadian values of equality, freedom, peace, privacy, bodily integrity and individual self-determination.
Because of the vulnerability of its victims, its widespread occurrence in society, and its impact, the government has enacted laws and policies to detect and combat domestic violence, and has set up special prosecution teams and even specialized courts to address it. The government's approach is one of "zero tolerance", which places domestic violence among a small list of offences which the government has highlighted for special attention and zealous prosecution, along with drinking and driving and child pornography.
As a result of the government's "zero tolerance" approach, every case of domestic violence, no matter how trivial on its face (a first-time offender, no injuries, willing to take responsibility and seek counselling) is a serious case which can have serious repercussions not only to the defendant who has been charged, but to his family as well. If you are dealing with a charge of domestic violence, you need to have a lawyer to properly advise and defend you, because this charge will not simply go away on its own. And because of the policies of the government, the fight to defend against such a charge can be a long and difficult one.
For more on how the government fights domestic assault, read our blog How Does the Government Fight Domestic Violence? or Why Are Domestic Violence Policies so Harsh?
If you are facing a charge of domestic violence, contact an experienced domestic assault lawyer at The Defence Group at 416-363-1331. The Defence Group is a criminal law firm with offices throughout the Greater Toronto Area.