What Are the Different Types of Bail?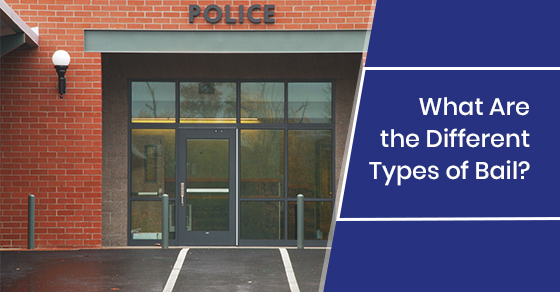 Blog by Cassy Beaulac and Arun S. Maini
If you are charged with a criminal offense, the police have to decide what to do with you. They have three options:
Release you from the scene
Take you to the police station and release you there; or
Take you to the station and hold you in custody for a bail hearing in court (usually the next day).
Do I Have the Right to Be Released on Bail?
Yes, you do. The Charter of Rights guarantees you the right to be released on reasonable bail. In other words, there is a presumption that you will be released from police custody, and that the bail you are released on will be reasonable. But that presumption might not apply in your case, if you have a criminal record; if you have other charges already before the court; or if you are charged with some particularly serious offenses, such as murder or terrorism.
The reason that you have a right to bail is that unless and until found guilty, you are presumed to be innocent, which is another right that the Charter guarantees.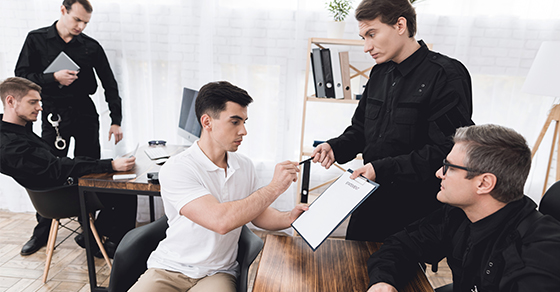 What Is Reasonable Bail?
Reasonable bail means that the release conditions are not overly strict, and are tailored to the circumstances of your case, and your personal background. For example, imposing a condition that you not drink alcohol, when your offense had nothing to do with alcohol, would be an unreasonable condition. Requiring you to have a surety to supervise you on bail, and to require that you live with them while on bail, would be unreasonable if you have no criminal record and are charged with a minor shoplifting.
What Are the Different Types of Bail?
There are different types of bail, depending on what you are charged with and whether you have a criminal record. The types of bail are often referred to as a "ladder" which goes from the least restrictive bail, all the way up to the most restrictive.
The different types of bail, in order of seriousness from least restrictive to most restrictive are as follows:
Release by Police
An Appearance Notice: An Appearance Notice is usually issued by the police officer at the scene where they have stopped you. It is usually in the form of a thin carbon paper, filled out and torn out from a pad of pre-printed forms. It will have your name and address; the name of the offense you are charged with; and the court date when you are required to appear in court. In some cases, it will also give you a date to go to the courthouse (or police station) to have your fingerprints and photograph (mugshot) taken.
A Promise to Appear: If you are not released at the scene but instead are taken to the police station for processing, you will be released on a Promise to Appear in court (unless the police decide to hold you in custody for a bail hearing in court). A Promise to Appear will give you a court date to begin the court proceedings. It will also give you a date to appear in court (or at the police station) to provide your fingerprints and mugshot unless the police have already taken your prints and photo that day.
An Undertaking: Usually when you are released from the police station on a Promise to Appear, you will also be required to follow certain conditions, which might include not to have contact with the alleged victim or certain witnesses; to stay away from certain locations (usually related to the victim), and not to have any weapons. In a domestic assault case, there might be a condition that arrangements with the complainant to see your kids have to be organized by a "mutually-agreed" third party or through family court. When you are released by police the conditions are usually fewer and simpler than if you are released by the court.
Note that in order to be released by police on one of these forms, you will have to sign the forms to show that you understand and agree to the requirements. If you refuse, the police will hold you in jail until the court can decide bail, usually the next day.
Release by the Court
If the police decide that the charges are too serious to release you, or you have a criminal record, they will hold you in custody until they can take you to court for a bail hearing. The Criminal Code requires that you be brought to court within 24 hours of arrest, to have your bail decided (but arriving in court within 24 hours does not mean that your bail hearing will be completed the same day).
The Court follows the same "ladder principle" described above, and the forms of bail that the court can release you on are listed as follows, again in order from least restrictive to most restrictive:
An Undertaking Without Conditions: This form of release simply requires that you appear in court as ordered. It is a lot like a police Appearance Notice. It is very rare, because if your case is serious enough to warrant the police holding you in custody for a bail hearing, the court will rarely find that you can be released without any conditions at all and will impose some conditions.
An Undertaking With Conditions: This is more common. And the court has a lot of flexibility to impose conditions it considers appropriate, from No Contact and No Weapons orders, to more tailored conditions such as attending counseling or not possessing certain items such as cellphones or credit cards in someone else's name.
A Recognizance Without Surety: This is a release order that is a step up the ladder from an Undertaking. Like the Undertaking With Conditions, it will also have conditions. A recognizance is seen to be more serious, and it usually has a financial liability of $500 attached to it. This means that if you violate its terms, in addition to being charged with violating a court order, the court could require you to pay the government the $500.
A Recognizance With Surety: This is the strictest form of bail available, and the last rung on the bail "ladder". The only option beyond this is for the court to detain you in custody until your trial. This form of bail requires that someone (a "surety", usually a person who knows you well and can vouch for you), to promise the court that they will supervise you on bail. Sometimes the court will require more than one surety. The court can impose conditions that can go all the way to requiring that you live with your surety, or, at their most restrictive, "house arrest", where you cannot leave your home except in certain limited circumstances. This form of bail requires the surety to pledge a sum of money to back up their promise to the court to supervise your bail. This means that if you violate its terms, your surety might lose money, up to the amount s/he has pledged on your behalf. The court decides how much bail money must be pledged, depending on the level of risk you represent. There is no limit on how high the pledge of bail money can go- from a few hundred dollars to millions of dollars.
Does Bail Money Have to Be Paid Upfront Into Court?
No. With one exception, the money that must be pledged to the court (by you, if you are released on your own recognizance without a surety; or by your surety) is a promise to pay only, which means that it is only due if you violate the terms of the bail and the court has ordered the bail money to be collected. The process of seeking forfeiture of your bail is known as an "estreatment".
The one exception, which requires that bail money be paid upfront into court, is when you live more than 200km away from the courthouse, and the payment of bail money upfront is ordered as an incentive to make sure you come back to court. However, nowadays this form of "cash bail" is less common, as a pledge by a surety is seen to be equally reliable.
If I Don't Make Bail, How Long Does My Detention Order Last?
If you cannot make bail, or the court deems you at too high a risk to be released, you will be detained in custody until your case is finished, or unless a court overturns that order during the process. This can happen if there is a material change in circumstances, such as a weakening of the evidence against you.
How Can I Change My Bail Conditions?
That depends. If the Crown agrees to change your bail, that is the easiest way. If the Crown refuses, you can always appeal to the Superior Court, but that is a time-consuming and expensive process. If the Crown refuses and you were released by the police on a Promise to Appear, you can bring a motion in the bail court to change your conditions.
If you or a loved one are facing criminal charges and need to get bail, or need the advice of an experienced and skilled lawyer to help you through the legal process, contact us for a free consultation at 877-295-2830.
Cassy Beaulac is an articling student and a graduate of the University of Windsor Law School
Arun S. Maini is a criminal lawyer and former prosecutor with 25 years of experience.