Recent Developments In The Ontario Court Of Appeal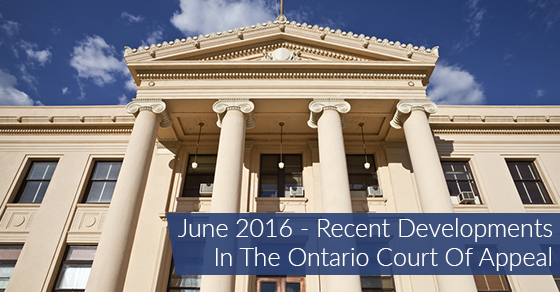 R v Kreko, 2016 ONCA 367 – The Importance of Aboriginality in Sentencing
The sentencing of aboriginal people is unique because it is supposed to take into consideration the systemic discrimination and marginalization this group has endured, which contributes to the commission of a crime by an aboriginal person. In this case, the accused pled guilty to the possession without lawful excuse of a loaded prohibited firearm, robbery, and intentional discharge of a firearm in a reckless manner. Mr. Kreko is of aboriginal descent, but had only recently become aware of his connection to the aboriginal community, as he was raised as a white male in an adoptive family. The Court of Appeal held that the Trial Judge was mistaken in concluding that the Mr.Kreko's aboriginal heritage was irrelevant to his sentencing. There is no requirement that a causal link be established between one's commission of an offence and their aboriginal status.
R v Kift, 2016 ONCA 374 – The Relevancy of Former RCMP Status to Sentencing
A former RCMP officer was convicted for numerous gun-related offences, which arose when the police seized enormous amounts of firearms, explosives, and ammunition from the accused's cabin. Mr. Kift argued that one mitigating factor that should be taken into consideration in his sentence is that he would likely endure negative treatment in prison by inmates due to his former RCMP status. However, the Court of Appeal agreed with the Trial Judge and held that Mr. Kift's status as a former RCMP officer should not be taken into account in his sentence, as he deliberately defied court orders and parole conditions.
R v Mac, 2016 ONCA 379 – The Use of Wiretap Authorizations in Drug Trafficking Investigations
Mr. Mac appealed his conviction for conspiracy to traffic two kilograms of methamphetamine because he alleged that the police incorrectly obtained a wiretap authorization. A wiretap authorization allows the police to intercept private communications, and it is only permitted in situations where all other investigative tools have been exhausted. The Court of Appeal upheld the trial judge's decision because of the need to deter the public from engaging in the trafficking of serious drugs.
R v McNeil, 2016 ONCA 384 – The Reduction of Sentences as a result of Pre-Trial Custody
The appellant pled guilty to robbery, two counts of dangerous driving, two counts of failing to stop for police, mischief, damaging a farmer's fence, and breach of probation. In the course of 13 years, Mr. McNeil accumulated 60 criminal convictions. Nevertheless, his sentence was partially reduced in order to take into account pre-trial custody.
R v Marini, 2016 ONCA 383 – Break and Enters
Mr. Marini was convicted for a break and enter that occurred in a store in Sault Ste Marie. The only piece of evidence that connected Mr. Marini to the crime was the presence of his blood on the front door of the store. Although this evidence is circumstantial, it logically and rationally linked the accused to the circumstances surrounding the break and enter. While the theft was under $500, Mr. Marini received a sentence of 45 months of imprisonment. The Court of Appeal held that this sentence was not too harsh, in light of the fact that Mr. Marini has a lengthy criminal record consisting of 70 convictions, many for break and enters.
R v Frater, 2016 ONCA 386 – The Reduction of Sentences in Light of Immigration Consequences
In situations where the length of a sentence can have serious immigration consequences on the accused, courts have often reduced the sentence in order to avoid such problems. In this case, Mr. Frater pled guilty to assault and two counts for breach of probation. He was sentenced to 185 days in custody, in addition to three years of probation. However, because Mr. Frater was a permanent resident, a term of imprisonment of more than six months would lead to his deportation. Consequently, the Court of Appeal made a modest reduction in his sentence in order to dodge this serious immigration effect.
R v Boyd, 2016 ONCA 380 – Consecutive Sentences
After being involved in an altercation with a taxi driver and driving dangerously, Mr. Boyd was convicted for a string of serious offences. The sentencing judge imposed five consecutive sentences, which totalled 42 months of imprisonment. The Court of Appeal held that this sentence was not unduly harsh, due to the seriousness of the offences and the extensive criminal record of the accused.
R v Allen, 2016 ONCA 387 – The Opinion of Police Officers in the Analysis of Evidence
In certain circumstances, the Court may find it appropriate to rely on a police officer's opinion of evidence, even if it is not independently tested. Mr. Allen was convicted for aggravated assault after he used a knife to stab the victim in the stomach. There was residue on a gate, which the police officer believed to be blood. Given the officer's years of experience, the Court of Appeal ruled that this opinion was justified, even though the substance had not been tested. In addition, there were several other items that confirmed the victim's testimony, which led to Mr. Allen's conviction.
R v Siddiqui, 2016 ONCA 376 – Dangerous Driving Causing Bodily Harm
While driving separate cars, Mr. Siddiqui and Mr. Manzoor were involved in a car accident that caused the passenger of Mr. Siddiqui to suffer serious injuries after being ejected from the car. Both drivers increased their speed and changed lanes several times in an erratic fashion. However, only Mr. Siddiqui was convicted of dangerous driving causing bodily harm. His passenger had repeatedly given Mr. Siddiqui warnings about the dangerous manner in which he was driving, which Mr. Siddiqui chose to ignore. On the other hand, such evidence was not available in relation to Mr. Manzoor. As a result, Mr. Manzoor was acquitted, since reasonable doubt existed as to whether he had the intent to commit the offence (less evidence than there was for Siddiqui).