Language of Choice in the Courtroom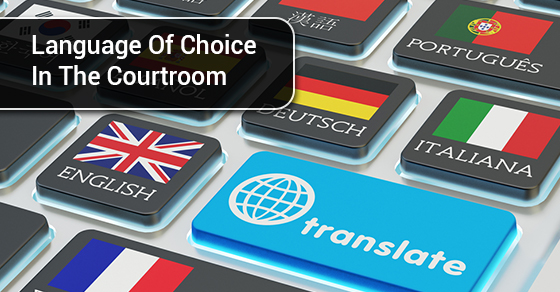 Toronto has long prided itself as being home to an ever-growing and expanding diverse and multicultural group of people. In an effort to respond to the unique demands of the multicultural hub of Canada, the Canadian courts offer many services to aid in the administration of justice for those who find themselves in some capacity burdened by cultural and language barriers. Protecting the rights of non-English speaking Canadians who find themselves in conflict with the law has been long recognized as a prevailing and prominent foundation of our criminal justice system.
Section 14 of the Canadian Charter of Rights and Freedoms constitutionally protects and guarantees the right to an interpreter for a party or witness who does not understand or speak the language of a court proceeding. This right exists regardless of any language involved in any criminal matter. The importance and significance that court interpretation plays in the administration of justice has long been documented. Court interpretation helps facilitate non-English speaking individuals to meaningfully participate in a judicial proceeding. As a result, court interpretation services are of fundamental importance in ensuring that linguistic minorities are afforded fair and comprehensive justice. Despite the significance and importance of court interpretation services in Canada, the system is not one without flaws.
The "swift and speedy" trial is a promised staple of Canadian justice. In fact, Section 11(b) of the Canadian Charter of Rights and Freedoms requires that individuals who are charged with an offence must be tried within a reasonable amount of time. In recent years, systemic delay in the Canadian criminal courts has become increasingly problematic. A slow and overburdened system is made even more so when proceedings have to be translated in the courtroom. Court interpreters are required to interpret every word spoken, whether that be words spoken by the judge, Crown prosecutor, defence counsel, and any other person who testifies at a criminal proceeding. Judges often instruct whomever is speaking or testifying at a criminal proceeding to speak slowly, and with pause after a complete thought in order to allow the interpreter to translate.
Speaking too fast, or even too quietly can make it very difficult for the court interpreter to hear and understand. Consequently, it is not uncommon for testimony, or fragments thereof to be repeated. Clearly, this can amount to an exhaustive experience for all involved. Hearings and trials can take much longer than those that do not require the services of court interpretation. The "flow" of the hearing or trial can feel disrupted at times.
Despite what can be a slower process for those who require the services of court interpretation, it doesn't have to be. Skillful judges and lawyers can improve the process in a variety of ways. Interpreters should be addressed as "Mr./Ms. Interpreter" to avoid confusion between speaking to the interpreter and the individual requiring court interpretation. Lawyers and judges should speak directly to the individual requiring court interpretation, and not the interpreter. Those working with court interpreters should speak clearly with a slower rate of speech, and reasonably project their voice. Similarly, testimony should be broken down into segments that can be reasonably interpreted. This can be done by pausing at the end of a complete thought or sentence. Compound questions should be avoided, if at all possible. Instead, counsel should ask a series of separate questions that will enable the court interpreter to interpret each individual answer to the question.
It seems obvious that when court interpretation services are required, only one person should be speaking at a time. Correspondingly, the court interpreter should not be interrupted when he or she is interpreting, and counsel should wait until interpretation is complete and finished before beginning to speak again. It is also best practice avoid "legalese," and abbreviations by using simple, legal language. It also may be beneficial for all involved to take more frequent breaks or recesses, as the art of court interpretation may take more time.
Patience and deference are required in every criminal proceeding, and even more so in proceedings that require the valuable services of court interpretation. Language barriers cannot be allowed to stand in the way of the meaningful access to criminal proceedings. Communication barriers must be removed, and through court interpretation services, a non-English speaker can be afforded the same constitutionally protected rights to persons for whom there was no such barrier. Skillful and proper preparation can ensure a successful proceeding requiring court interpretation services for not only the individual requiring such services, but for all involved.