Justice Denied: The Wrongful Conviction of Amanda Knox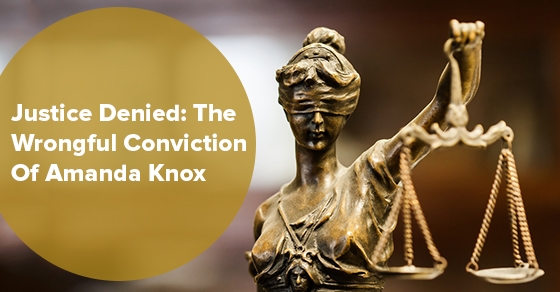 Wrongful convictions are the result of human error: tunnel vision by police; motivated but mistaken witnesses, shortcuts and negligence by investigators. Countless stories of wrongful convictions beg us to question whether our criminal justice system is truly fulfilling its purpose.
And wrongful convictions can happen anywhere. After serving almost 4 years in an Italian prison, American student Amanda Knox was ultimately acquitted of the brutal murder and rape of her roommate, Meredith Kercher, a 21-year-old British exchange student, in Perugia, Italy in 2007. However, Knox did not receive redemption until the final verdict of not guilty was delivered by the Italian Supreme Court 8 years later. In the present day, Amanda Knox now uses the lessons of her shocking experience to advocate for the wrongfully convicted.
In a recent talk delivered at the University of Windsor, Faculty of Law, Amanda Knox went into detail about how unreliable DNA evidence and false confessions tainted the investigation of Meredith Kercher's murder, which put her unjustly behind bars. From the very beginning, both police officers and the prosecutor were biased about Knox's guilt. They put undue weight on Knox's peculiar behaviour after the murder. For instance, Knox was seen kissing her boyfriend, Raffaele Sollecito, as well as doing stretching exercises and cartwheels while in the waiting room of the police station.
In a classic case of tunnel vision, authorities developed a theory of the case that painted Knox as the culprit. Knox was vigorously interrogated. Her final interrogation, which began at 10:00 pm, lasted until 6:00am the following day. She was tag-teamed by multiple police officers, did not receive a break for food or sleep, and did not have her attorney present. Knox's vulnerability was exacerbated by the fact that she was forced to speak a language she was not completely fluent in, was in a foreign country, and was persistently threatened and accused of being a liar. The police told her that her boyfriend denied her alibi, and even told her that there was physical evidence of her at the crime scene, when in fact that was no trace of Knox's DNA. Furthermore, she was tricked into imagining the gruesome murder. She was made to believe that these thoughts would help her unearth repressed memories of the killing of Meredith Kercher. All of these factors culminated to a false confession by Amanda Knox.
The highly publicized confession had an impact that went beyond depicting Knox in a negative light. Witnesses, namely Knox's other roommates, changed their statements to the police. At first, the roommates stated that there was no bad blood between Kercher and Knox. However, after the confession, the roommates brought forth new memories and reported to the police that Knox regularly brought boys into their home, which made Kercher uncomfortable. These statements continued to perpetuate the narrative that Knox was a crazy sex addict, that the murder was a crime of passion, a sex game gone wrong by the hands of "Foxy Knoxy". Knox explained that the media was relentless in portraying her as "satanic, a witch of deception", and even leaked Knox's personal diary, which contained a list of all her sexual partners, in order undermine her character. Knox rightly accused news outlets of propagating information that was unfounded and detrimental to her case as they tried to outdo each other in delivering the juiciest scoop, the most salacious details. The Italian Supreme Court agreed, and found that the media attention had fuelled a witch hunt for guilty parties by investigators and the prosecutor.
Knox also went through the stunning flaws in the investigation that contributed to the police and prosecutor's tunnel vision. To begin with, there were many issues of contamination of DNA evidence, both at the crime scene itself and the laboratory. A sterile crime scene is of upmost importance, however investigators did little to maintain that. Video footage revealed that people were coming and going without wearing protective suits, and booties and gloves were rarely changed. As a result, traces of DNA from other areas could have easily been transferred to the crime scene. In addition, the victim's bra clasp, which allegedly contained the DNA of Knox's boyfriend and was an important piece of evidence used to implicate both of them for the murder, was not found until 46 days after the murder under a rug. An independent forensic scientist testified that the likelihood that the DNA came from somewhere else was high. Similarly, in the lab, only scarce DNA of the victim was found on the supposed murder weapon – the knife. Investigators confirmed that they did not examine the knife alone; it was tested with 50 of Kercher's samples, which suggests that the knife was contaminated. It is undisputed that forensic science has developed as an important tool for members of the criminal justice system to decipher and make rulings on a case. DNA evidence has been subject to vigorous scrutiny so that it can be properly relied upon. However, it is dangerous to rely completely on the findings of DNA evidence without carefully examining it, as the science is only as reliable as the underlying pieces of evidence upon which the opinion is based.
Witnessing inmates attack each other, undergoing separation from her loved ones, and being sexually harassed by prison guards were experiences that Knox was not prepared for. With each passing day, she grew more and more cynical about her chances of ever returning home. Nevertheless, she maintained her innocence and was finally vindicated in 2015. When she returned home to Seattle, she was surprised that she was welcomed with open arms and love. Moreover, she has not used her newfound fame for her own selfish pursuits, and has instead used it as a medium to advocate and spread awareness about wrongful convictions. Her widely popular Netflix documentary "Amanda Knox", and her book "Waiting to be Heard" are demonstrations of Knox's commitment towards delivering an objective account of what transpired in Perugia, and, as countless examples have shown in recent years, that wrongful convictions can happen to anyone, anywhere.