How Does The Government Fight Domestic Violence?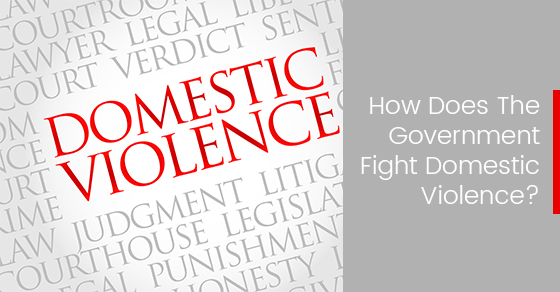 Domestic violence has been identified as a major priority by both the federal government (which creates the law) and the Ontario government (which enforces the law).
Because of the vulnerability of its victims, its widespread occurrence in society, and its impact, the government has enacted laws and policies to detect and combat domestic violence, and has set up special prosecution teams and even specialized courts to address it. The government's approach is one of "zero tolerance", which places domestic violence among a small list of offences which the government has highlighted for special attention and zealous prosecution, along with drinking and driving, and child pornography.
Domestic violence laws and policies are based on the premise that violence within the home or within relationships is under-reported. It is under-reported because the victims are ashamed or frightened of repercussions, and are often vulnerable emotionally, physically or financially. In some cultural communities, violence within the home is not perceived to be a crime but rather to be the prerogative of the head of the household.
These laws and policies are also based on the premise that the victim is unable to get through this situation without decisive action by the government. They assume that she cannot protect herself, and cannot make proper decisions on her own about how to respond to the situation, such as whether to press charges, seek a conviction, or eventually reunite with the abuser. In other words, she needs to be "rescued" by the government.
The government fights domestic assault in various ways: through education and advertising; by implementing laws and policies; and by setting up special courts and prosecution teams to enforce those laws. Some of the laws and policies include:
Requiring mandatory reporting of domestic violence. For example, if a medical doctor or other health professional becomes aware that a patient is suffering from domestic abuse. s/he is required to report this to police, or, if children are present in the home, to report to the Children's Aid Society (CAS);
Restricting the discretion of police and prosecutors through policies that require them to arrest the alleged abuser in almost every situation, and to prosecute him to the full extent of the law;
Protecting victims from retaliation by their abusers by removing the abuser from the home and preventing him from returning home until the case is complete;
Imposing a "no contact" order to prevent the abuser from pressuring or manipulating the victim before the end of the case;
Detaining abusers in custody and only releasing them if they agree to strict conditions, often including supervision by a bail "surety";
Taking statements from complainants on video and under oath as soon as possible, to make it more difficult for them to later change their mind, or their allegations;
Requesting that victims respond to a questionnaire to help identify the level of risk and any particular vulnerabilities that they face;
Discouraging victims from changing or recanting statements that are exaggerated or untrue, by assuming these victims are being pressured to do so;
Choosing not to punish complainants who lie about abuse, on the assumption that this might discourage true victims from coming forward;
Offering resources to victims for counselling, shelter, and advice about the criminal process;
Requiring that all abusers complete the government's intensive counselling program, called "PARS";
Setting up specialized domestic violence courtrooms and specialized prosecution teams;
Laws that list domestic assault as an aggravating feature deserving of more severe punishment;
Harsher penalties for domestic violence, including less house arrest and more real jail; and more minimum penalties.
Note that these laws and policies refer to complainants as "victims" and not merely as "complainants", because the government believes that all complainants are telling the truth, and that all complainants are vulnerable victims who need to be rescued from their abuser by the government.
By addressing domestic violence, the government is seeking to advance a social and political agenda: the rights of women and children, who have historically been overlooked as victims; the equality of the sexes; the protection of the home as a place of safety and comfort in an increasingly complex and challenging world; and the promotion of Canadian values of equality, freedom, peace, privacy, bodily integrity and individual self-determination.
No one would dispute that these are noble goals. But the way that these laws and policies are imposed, and their "one-size-fits-all" nature, fails to take into account the wide variety of individual situations. Not every incident of domestic violence requires extreme action by the government and the imposition of rigid sanctions. Not every victim is so vulnerable that she needs to be "rescued" by the government and have her ability to make decisions about the situation removed from her. And of course, there is one reality that the government does not want to hear, and does not take into account in its domestic violence strategy: not every allegation of domestic violence is true.
If you are facing a charge of domestic violence, you need to have a lawyer to properly advise and defend you, because this charge will not simply go away on its own. And because of the policies of the government, the fight to defend against such a charge can be a long and difficult one.
For more on how the government fights domestic assault, read our other blogs on the subject: What Is Domestic Violence? or Why Are Domestic Violence Policies So Harsh?
If you are facing a charge of domestic violence, contact an experienced domestic assault lawyer at The Defence Group at 877-295-2830. The Defence Group is a criminal law firm with offices throughout the Greater Toronto Area.