CRA Scam- Don't Be Fooled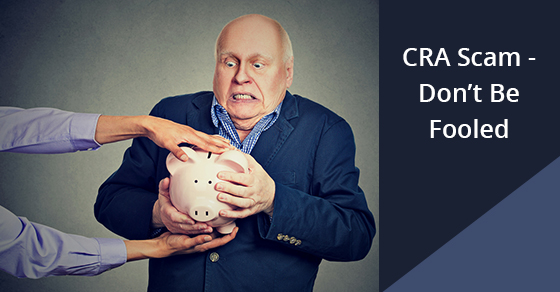 It's tax season in Canada, which means that it is also hunting season for fraudsters seeking to prey on vulnerable, scared, or just plain trusting folks who play by the rules.
The scam starts with a text, email or voicemail urgently telling you that you have committed tax fraud, that you have filed improper tax returns in prior years, and threatens to send the police unless you contact them right away. In some instances, they ask you to enter in private information, such as your social insurance number, birth date and home address. In other situations, the caller says (usually in a stern, urgent tone) that a warrant has been issued for your arrest unless you call right away.
In recent years this scam has gotten more sophisticated, with actual people answering your call and providing what at first glance appears to be valid information: the name and "badge number" of the CRA investigator; your "case file number", and even the file number for the arrest warrant. Ultimately, the scammer will demand money.
Don't be fooled- these are all versions of the same scam. This spring, the fraudsters are providing an Ottawa based area code and phone number, such as 613-714-5118 or 613-714-5120.
The reality is that the CRA does not contact people in this way. Criminal investigations are rare, and they usually start with an audit where the client is contacted by mail and asked to contact the agency. If an investigation is commenced, the taxpayer is notified, and given an opportunity to respond. Often the taxpayer finds out when the CRA shows up with a judicially authorized search warrant.
Arrest warrants are not issued in CRA cases: instead, the CRA will issue a summons go appear, and the taxfiler will have had notice of the investigation for many months, sometimes a year or more, before the summons is issued.
The scare tactics used by fraudsters are effective, because they prey on the fears of law-abiding citizens. Taxes can be complicated, and people know that the government has a lot of power. Many people pay up to avoid the threat of the CRA intruding into their life, assuming that they must have made a mistake on their taxes, and paying up right away. Afterwards, they are too embarrassed to tell others that they were scammed.
Web-based and phone-based scams are everywhere. In today's digital age, it is important to keep your date private and secure. If a call or email seems fishy, it may well be a scam. Do a web search of the email or phone number to see if others have identified it as a scam. Do not call the police, because they are busy with real emergencies, and because there is very little they can do to stop these schemes, most of which originate overseas.
The internet has created a whole new world of convenience, access, and information. It has also provided a new and vastly powerful tool for fraudsters to reach into your life without ringing your doorbell. As with everything else in life, keep your eyes open. And as the old adage cautions: "trust, but verify".