COVID-19: Is It Safe to Go to Court?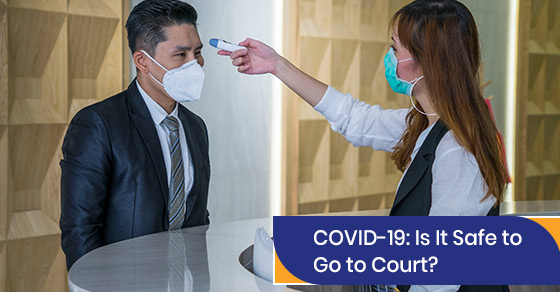 Are the courts open?
As a result of the COVID-19 pandemic, the courts in Ontario closed early and completely to the public on March 16th, and only as of July 6 have they slowly and carefully begun to re-open. When it comes to which court functions have resumed, there are differences between the Ontario Court of Justice and the Superior Court of Justice, which can be found at www.ontariocourts.ca.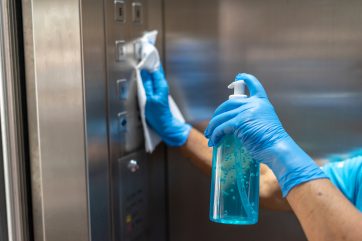 While the courts were closed to the public, they were still operating, mostly online by telephone and video-conferencing, to address emergencies, including bail, in-custody matters, judicial pre-trials, and some out-of-custody guilty pleas.
Currently, as of July 6, trials and preliminary hearings are taking place in person in the Ontario Court of Justice. The Superior Court of Justice has also opened certain courtrooms in courthouses across the province for hearings in person.
It is anticipated that all levels of court will gradually re-open over the coming weeks, with a target of a complete resumption of hearings by late fall. These targets are of course subject to public health guidelines.
I have a first appearance in the Ontario Court of Justice? Do I go?
No. Routine court appearances, such as first appearances and set dates, as well as many case management functions such as confirmation dates, remain suspended. Set dates and first appearances, for example, are being remanded automatically without the client or counsel needing to appear. The details for this procedure can be found at www.ontariocourts.ca/ocj/covid-19/criminal-list-adjournment
Should I worry about my safety if I have to go to court?
It is understandable for members of the public to be worried about attending court. Even the Ontario Crown Attorneys Association, worried about the safety of its members, was seeking an injunction to delay the province's plans to re-open the courthouses. The Ministry is aware that the cost of exposure in court is far too high to proceed with physical re-entry without strict safety measures, and therefore the health and safety of all court users remains the paramount concern.
Because of COVID, one should always be cautious when venturing indoors into a public place. Courts are no exception. The long lines to get through security, busy elevators, and crammed courtrooms that were the norm before COVID(especially for "set dates"), would be an epidemiologist's nightmare today.
The Ministry of the Attorney-General and other stakeholders have been working hard to assess and address the issues necessary to enable the courts to re-open safely, yet without compromising the fundamental rights (including the right to life and security of the person) of all of the individuals caught up in the justice system, from judges to staff to litigants, witnesses, the public and the media. To that end, the Ministry has completed site assessments for all 93 Phase One courthouse locations, based on the latest public health guidelines.
Strict health and safety protocols have been implemented to protect everyone including judicial officers, lawyers, litigants, witnesses, staff, and members of the public.
Will physical distancing be enforced in the courts?
Yes.
There will be signs to remind people to physical distance from one another (2 metres apart); there will be stickers on the floor allowing people to know where to stand in waiting areas, washrooms, and in lines to enter the courthouse. There will also be arrows to show which direction one should walk, and signs to show where one should sit.
Plexiglass barriers have also been installed in the public counters, interview rooms, and intake offices. In the courtroom, they are also installed where the judge sits, where the witness stands, at the court personnel workstations, and the Crown attorney and defence tables.
Additionally, the number of people allowed to be present in the courthouse and courtroom remains restricted. For this reason, in-person attendances for criminal court case management appearances remain suspended. Furthermore, only the parties, their lawyers, and witnesses are allowed to enter the court for in-person hearings. All other members of the public have to avoid unnecessary visits to Ontario courthouses. Other people such as family members are allowed if only "absolutely necessary".
Will there be workplace sanitation sites?
Yes.
There will be hand sanitizer dispensers located in many places throughout the building. There will also be enhanced cleaning. High-touch areas such as handrails, desks, chairs, public service counters will be cleaned with Health Canada-approved disinfectant cleaners many times every day.
The court will provide members with disinfectant wipes or other products to disinfect areas you have touched.
Additional health safeguards and courthouse tips
Court staff will use a bin or trolley to share documents or exhibits and have to sanitize their hands before and after sharing.
The number of people allowed inside a public washroom at one time will be limited and there will be signs on how many people can enter. Every other urinal will be also be closed.
Whenever possible, try to be the only person in the elevator, if not stay two metres apart, face the other way and use something other than your fingers to press the buttons.
When using an escalator, stay two metres apart from other people, and try to avoid touching handrails, unless you need to for safety.
Are we all required to wear masks at the courthouse?
Yes.
It will be mandatory for you to wear a face covering at the courthouse.
Should I still attend court if I have a cough?
The following website allows self-assessment of health, and gives feedback on whether to attend court or not based on your responses: https://covid-19.ontario.ca/self-assessment/
The general rule of thumb is to NOT attend an Ontario courthouse if you are experiencing any signs or symptoms of COVID-19, if you have travelled outside Canada within the last 14 days, or If you have been advised by a public health official, a doctor, or the Ontario Ministry of Health website to self-isolate. If any of these three cases apply, then you should contact your lawyer or courthouse (by email or phone) to seek direction.
What if a worker or other members of the court are feeling sick?
The precautionary measures listed above apply to the workers of a court as well. Thegovernment has developed a screening tool (https://covid-19.ontario.ca/courthouse-screening/) for use by anyone. This website asks questions which screen for COVID-19 symptoms, and if you can't enter the courtroom, you are given information about what to do next. Thus, if employees of a courthouse are sick, then they would have to contact their manager. Plaintiffs or defendants would have to contact either their lawyer or the courthouse. Accused persons would also have to contact their lawyer or the duty Counsel. Witnesses would have to contact either the contact person on their subpoena, the party that asked them to attend, or the Crown's office. Everyone else would have to contact the courthouse.
All members including judicial officers, lawyers, litigants, witnesses, and staff should go to an assessment centre to get tested if they are feeling sick.
It should also be noted that jury matters are deferred until at least September, so there should be no health risk from a jury standpoint.
Approximately one week before a scheduled trial or preliminary inquiry, a Trial Readiness Court is held by audio conference or video conference, unless otherwise directed by a judge. The goal of this conference is to allow members to confirm that trials or preliminary inquiries are ready to proceed on their hearing date during COVID-19 and to assign cases into courtrooms that are open and operating.Accused persons who are represented by counsel do not need to be present for this conference. However, the Court expects the Crown and defence counsel to have communicated before the Trial Readiness Court to identify and discuss any concerns that may affect the scheduling or conduct of the hearing. This includes matters such as any parties who may be unable to attend court due to health worries, COVID-19 symptoms, or other issues. This also includes matters on whether any portion of the hearing (including any witness testimony) would have to be conducted using remote technology or not.
What will happen if I do not show up in court?
You cannot assume that you don't have to go to court because you hired a lawyer. Unless your lawyer specifically says that you do not need to go to court, you must be at court on the scheduled date. In some situations, you may be able to send someone on your behalf (an agent). However, it is generally best to go to court yourself. You can also be charged with the criminal offence of failure to appear.
If you do not want to show up due to fears related to COVID-19 and health, speak to your lawyer or the courthouse.
Is it possible to opt for an online trial?
The best advice is to contact your lawyer or local court regarding opting for an online trial.
Since March 16, 2020, the Superior and Ontario Courts of Justice have enabled over 21,000 calls to hear matters remotely, using video and teleconferencing. Even up to this point the courts are continually trying to adopt technology that will increase participants' ability to access the court's services using remote means. The Ontario Court of Justice has already been using "Zoom" for some remote hearings. Thus, it may be possible to opt for online hearings.
Parties are highly encouraged to talk to their lawyers to consider and discuss whether all or any portion of the hearing (including any witness testimony) can be conducted using remote technology.
When will things get back to normal?
The ongoing public health crisis is testing the court system as never before. So far, the system's participants and stakeholders have proven to be cautious, flexible and creative in addressing the needs of this fundamental function of a democratic society. But the consequences will be long-lasting. Many of the interim changes, especially when it comes to the use of technology and the reduction in unnecessary routine court appearances, may become permanent. It remains to be seen whether other measures, such as the Crown being more flexible and reasonable in negotiations, can survive the pandemic.
Stay tuned.
If you or a loved one are facing criminal charges and need the advice of an experienced and skilled lawyer to help you through the legal process, call The Defence Group for a free consultation at 877-295-2830.
Rudrakshi Chakrabarti is a student at Windsor Law School
Arun S. Maini is a criminal lawyer and former prosecutor with 25 years of experience