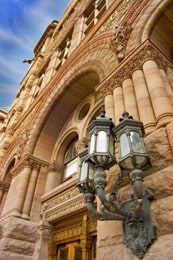 At The Defence Group, our criminal defence lawyers represent clients throughout the Province of Ontario. If you are under police investigation, have been arrested, or charged with a criminal offence, we can help. With offices in Toronto, Oakville and Richmond Hill, we are available 24 hours a day, 7 days a week to serve your needs. Book your free consultation by calling us at (877)-295-2830 or send us an email at info@defencegroup.ca.
Our areas of practice include domestic violence (e.g., assault, threatening death or bodily harm, harassment, mischief); drugs and controlled substances (e.g., possession, trafficking, production, importing); sexual offences (e.g., sexual assault, child pornography); drinking and driving / D.U.I. (e.g., impaired driving, over 80); weapons offences (e.g., careless storage, possession of a firearm); murder (e.g., homicide, manslaughter); financial crimes (e.g., tax evasion, fraud); regulatory offences; bail hearings; sentencing; and Charter of Rights.
For a complete listing of courthouses in Ontario, see our listings at the bottom of the page.
The majority of our cases appear in the following courthouses:
Toronto
Old City Hall
Ontario Court of Justice
60 Queen St. W. Old City Hall
Toronto ON M5H 2M4
tel. 416-327-5614
College Park
Ontario Court of Justice
444 Yonge St., College Park -2nd Fl.
Toronto ON M5B 2h3
tel. 416-325-8950
Youth Court
Ontario Court of Justice
311 Jarvis St.
Toronto ON M5B 2C4
tel. 416-327-6868
Superior Court of Justice
361 University Ave.
Toronto ON M5G 1T3
tel. 416-327-5917
Court of Appeal
Osgoode Hall
130 Queen St. West
Toronto ON M5H 2N5
tel. 416-327-5020
Scarborough Courthouse
Ontario Court of Justice
1911 Eglinton Ave East
Scarborough, ON M1L 4P4
tel. 416-325-0983
North York Courthouse
Ontario Court of Justice
1000 Finch Ave. West
Toronto ON M3J 2V5
tel. 416-314-4208
Etobicoke Courthouse
Ontario Court of Justice
2201 Finch Ave. West
Toronto ON M9M 2Y9
tel. 416-314-3962
Newmarket Courthouse
50 Eagle St. W.
Newmarket ON L3Y 6B1
Ontario Court of Justice
tel. 905-853-4801
Youth Court
tel. 905-853-4801
Superior Court of Justice
tel. 905-853-4801
Brampton
A. Grenville & William Davis Courthouse
7755 Hurontario Street
Brampton ON L6W 4T1
Ontario Court of Justice
tel. 905-456-4700
Youth Court
tel. 905-456-4700
Superior Court of Justice
tel. 905-456-4700
Burlington Courthouse
2021 Plains Rd. E.
Burlington ON L7R 4M3
Ontario Court of Justice
tel. 905-637-4125
Youth Court
tel. 905-637-4125
Milton Courthouse
491 Steeles Ave E.
Milton ON L9T 1Y7
Ontario Court of Justice
tel. 905-878-4165
Youth Court – tel. 905-878-4165
Superior Court of Justice
tel. 905-878-4165
Book a Legal Consultation in Courthouses
Oshawa Courthouse
150 Bond Street East
Oshawa ON L1G 0A2
Ontario Court of Justice
tel. 905-743-2640
Youth Court
tel. 905-743-2640
Superior Court of Justice
tel. 905-743-2630
Kitchener – Waterloo Ontario Court of Justice
200 Frederick St.
Kitchener ON N2H 6P1
Ontario Court of Justice
tel. 519-741-3300
Youth Court – tel. 519-741-3300
Kitchener – Waterloo Superior Court of Justice
20 Weber St. E.
Kitchener ON N2H 1C3
tel. 519-741-3206
St. Catharines Courthouse
59 Church Street
St. Catharines ON L2R 7N8
Ontario Court of Justice
tel. 905-988-6200
Youth Court
tel. 905-988-6200
Superior Court of Justice
tel. 905-988-6200
Fort Erie Courthouse
Ontario Court of Justice
200 Jarvis St.
Fort Erie ON L2A 2S7
tel. 905-988-6200
Welland Courthouse
102 East Main Street
Welland ON L3B 3W6
Ontario Court of Justice
tel. 905-735-0010
Youth Court
tel. 905-735-0010
Superior Court of Justice
tel. 905-735-0010
Orangeville Courthouse
10 Louisa St.
Orangeville ON L9W 3P9
Ontario Court of Justice
tel. 519-941-5802
Youth Court
tel. 519-941-5802
Superior Court of Justice
tel. 519-941-5802
Barrie Courthouse
114 Worsley St.
Barrie ON L4M 1M1
Ontario Court of Justice
tel. 705-739-6111
Youth Court
tel. 705-739-6111
Superior Court of Justice
tel. 705-739-6111
Bradford (West Gwillimbury) Courthouse
Ontario Court of Justice
57 Holland St. E.
Bradford ON L3Z 1H8
tel. 905-775-2621
Guelph -Ontario Court of Justice
36 Wyndham Street South
Guelph ON N1H 7J5
Ontario Court of Justice
tel. 519-836-2501
Youth Court
tel. 519-836-2501
Guelph – Superior Court of Justice
74 Woolwich St.
Guelph ON N1H 3T9
tel. 519-824-4100
HAMILTON-WENTWORTH COUNTY
Hamilton
John Sopinka Courthouse
45 Main St. E.
Hamilton ON L8N 2B7
Ontario Court of Justice
tel. 905-645-5252
Youth Court
tel. 905-645-5252
Superior Court of Justice
tel. 905-645-5252